Green Tour: Malena and Graham's Shrine to '59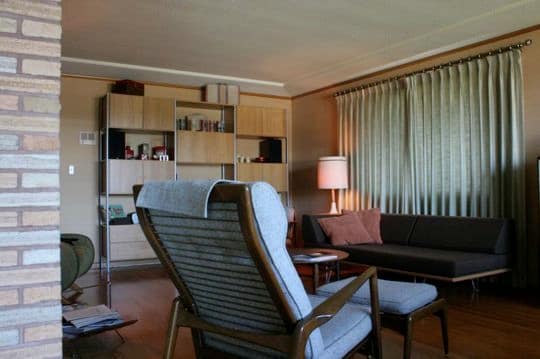 Name: Malena and Graham
Location: Portland, Oregon
Years lived in: 2, owned
It took Malena and Graham a long time to find their home, and it's not green in the expected ways. You're not going to see a bamboo floor or solar panel here...
>>
Rather than remodeling their house to suit their taste, Malena and Graham looked long and hard to find a house that was perfect for them. They found it in this well-built brick ranch, which they purchased from the original owners and quickly dubbed "the Shrine to '59," a reference to the year the house was built. Their remodeling has been limited to doing a deep cleaning, pulling up carpet, waxing the wood floor in the living room, pulling down a bit of wallpaper, and painting. So it's green: no dumpsters, very little waste. And they love it—there are no gut remodels in store for this place, no hard feelings festering within these walls.
AT Survey:

Our style: Vintage. If it's older, we like it.

Inspiration: This is a tough one -- we're inspired by so many things.

Biggest Challenge: Procrastination.

What Friends Say: about our house? about us? Hopefully good things!

Proudest DIY: the kitchen. We agonized over colors for months.

Biggest Indulgence: That's a tough one too. We tend to stick to our budget when it comes to purchases for the house, though we are easily swayed by shiny new technology.

>>
Resources:
Furniture and Accessories:
Hawthorne Vintage in Portland; Estate Sales
Artwork:
Graham and Friends! Drawings and paintings based on his Grickle series appear throughout the house. The piece above the bar is by Malena and Graham's friend Scott Campbell, and all the paintings above the fireplace are by Nathan Stapley.
Flooring:
We used Johnson's Paste Wax to rejuvenate the floor.
(Thanks, Malena!)
>>