Green Tour: Green with an Abundance of Artistic Style
(Hello again to Trent, one of the bloggers trying out for a spot on the Re-Nest editorial team. His recent post on Cold Brew Coffee is here - please enjoy the tour he has put together for us today. Comments are welcome!)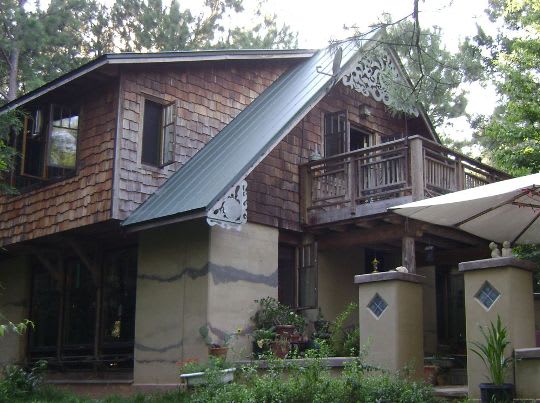 What happens when well connected Realtor, Gary Phillips, who also happens to be a preacher, auctioneer, writer, active conservationist, and former county commissioner, decides to tap the expertise of more than 13 of his artisan friends to help create his own green residence?
You end up with the first legally permitted rammed earth home in North Carolina, with a modest 1050 sq. ft. of interior space, constructed from local soil, untreated local lumber and filled with a bounty of local flavor ...
In building his home, Gary wanted to minimize his impact on the environment. He chose rammed earth construction for several reasons: thermal efficiency, local materials, and the most compelling, that eventually the house will melt right back into the earth. And by eventually, rammed earth homes are known to last hundreds of years.
The first thing you'll notice about Gary's house is that it's filled with artistic touches. For example, his clay bathroom sink was custom made by a friend, and the tin roof (rated at 100 years), beautiful steel corner drops and eve ornaments, were locally milled and hand crafted by local craftsman, Bob Phillips. Salvaged materials were also used throughout the home including the front gate, kitchen appliances and the refinished claw tub upstairs. The rammed earth walls were left unpainted and upstairs, the VOC free sheet rock was finished with a natural clay plaster from TheSolar.Biz .
When it comes to size, 1050 sq. ft. is relatively modest for a household of two in North Carolina, but the layout of Gary's house utilizes every inch; an open floor plan, with very few closets, gives the feeling of a much larger space. And by connecting the interior living space to both a screened porch and extensive patio, partially covered by a waterproof membrane equipped porch, ample room is available for entertaining house guests.
For heating and cooling, rammed earth is hard to beat. The two-foot-thick walls provide such an extreme R value that, according to Gary, "it takes a few days for the interior to reflect any outdoor temperature changes and it's generally about 10 degrees cooler inside the home during the summer." The thermal properties, coupled with proper solar orientation, a whole house fan for air circulation and radiant heat concrete floors, make the house easy to heat and cool.
A few green details about Gary's home:
* Constructed from 24" thick rammed earth walls from local soil, and untreated local cedar for beams and shingles.
* Cotton batt insulation in attic is produced from recycled denim.
* Salvaged light fixtures, cast iron tub and kitchen appliances.
* Native plants and grasses require minimal watering.
* Rinnai LP tankless water heater (also used for radiant floors).
* Whole house fan used for efficient ventilation.
* Southern orientation with high performance windows and glazing maximizes sun during winter.
* Natural finishes and low VOC paint.
* Earthen tiles for kitchen counters and bathrooms.
Future plans: Rain water catchment system.
Favorite Design Element: The architectural niche's in the stairwell and living room.
Gary's style? A little bit of everything from Mexican, to Moroccan, and certainly a big dose of local North Carolinian.
Thanks Gary!
-Trent